Touch screen control panel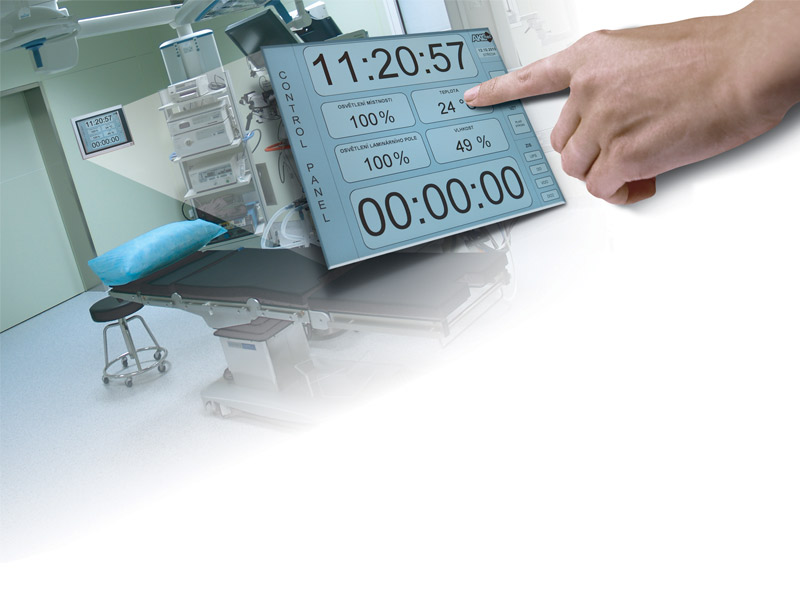 Touch screen control panel is primary designed for use in operating theatres.
Touch screen control panel informs personnel in operating theatre about non standard situations by color change in appropriate button as well as by sound signal. Also in those situations, thanks to information shown on control panel, leads the personnel to follow detail information and minimize possible damages or avoid to critical situation on the operating theatre. By simple check of shown functions on the control panel is personnel informed all the time, if all shown values /medical gases, medical isolated system, back up source/, are in order.
Important: If nothing is shown in color –system is stable and without errors.
So the personal can pay attention to patient and not to control panel.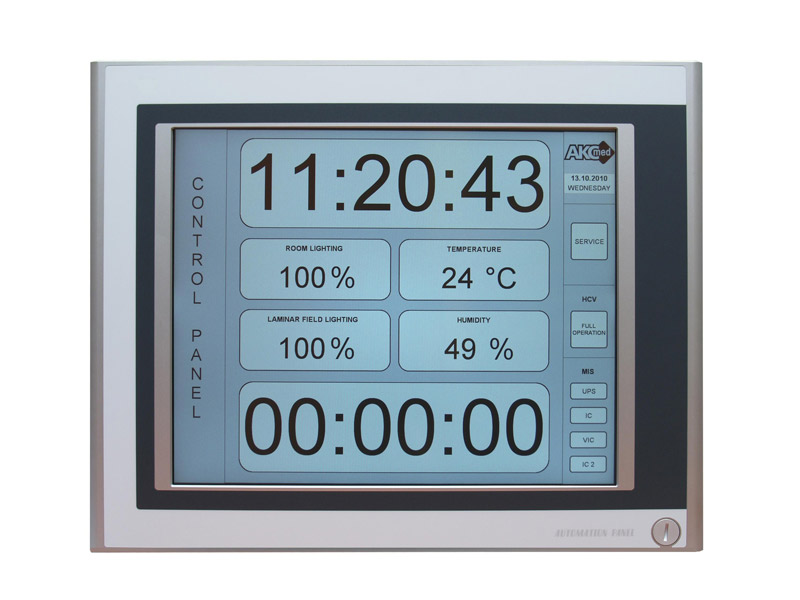 Functions
Intuitive control and monitoring of necessary functions needed for operating theater operation
clock
date
stop watch
operating theater lighting intensity setting and on/off function
laminar flow unit lighting intensity setting and on/off function
main operating light on/off function /optional function/
secondary operating light on/off function /optional function/
other additional functions possible for operating light control based on type of the operating light selected /optional function/ - more information on website
operating light operation on backup source
operating theatre temperature indication
operating theatre humidity indication
pressure of gasses and vacuum indication /optional function/
medical isolated system situation indication
medical isolated system function test
ventilation unit status indication /full or partial operation/
alarms indication – error reports
alarms history – error reports
audio alarm function
function to simulate alarms for personnel training
possibility to connect to hospital computer system – remote situation control
possibility to test status and errors through internet
blue code - /optional function/
additional function could be add based on the customer requirements
Touch screen control panel system thanks to its simple software modification enable to adjust
all types of medical gases
medical isolated system - very important circuits
main and secondary operating light
sound for alarm reports
language
touch screen panel color solution
Even not trained personnel can not by accidental touching on the control panel screen cause damage or change settings of any function. System is designed to be resistant against those situations.
Do you need more information's about functions, connections and prices?
Please contact us by email.