Wall Panel
A stainless steel wall panel that is made of stainless sheet (DIN 1.4301, AISI 304) with a thickness of 0.8 mm During production, after cutting of both the circumferential form and possible openings, this stainless sheet is bent to the form of a panel on a fully-automated line. Another step is the colour surface treatment of the panel by means of a powder burning method in a fully-automated burning kiln at a temperature of approx. 150 °C. Thanks to this special burn coating, the panel gains an antibacterial surface which is also resistant to disinfectants. The last production step is the insertion of an 18mm-thick plasterboard. The panels are made in the dimensions specified in the project documentation and every panel has its own unique labelling (panel number), according to which it is possible to identify a panel immediately in the future without any need to know its placement, size, etc.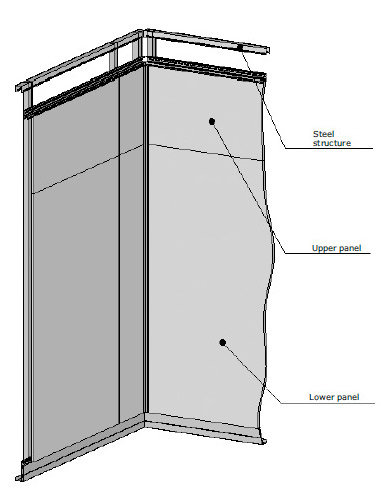 Standard panel dimensions:/solution with one gap between bottom and upper panel/
bottom - 2000x1200 mm
upper - 900x1200 mm
Standard panel dimension /solution with two gaps - installation panel /
bottom panel - 900x1200 mm
installation module - 200x1200 mm
upper panel - 1800x1200 mm
Atypical panels always have various widths while keeping the same height of the panel - 2,000 mm or 900 mm and they are usually used as the last panels in, in the corners, at the doors, etc. A vertical joint, /gap/ between panels intended for side assembly (no fastening elements from the front side) is sealed by an inserted silicone profile (sealing) in the colour of the wall panels.
Colour style:
according to the NCS or RAL colour cards.
Graphic panels: stainless steel panels, on which any graphical symbols can be applied with a special printer. The symbols are then covered by an upper protective layer which provides the panel with the standard resistance. The symbol may be applied across multiple neighbouring panels as well.