Steel Structure
The concrete floor for assembling of the steel structure should conform to the standard DIN 18202, STN 744505.
Thanks to the composition of the innovative structure, it is possible, independently of any unevenness of underlying concrete, to ensure horizontal flatness of the bearing profile, which is necessary for later faultless assembling of the panels.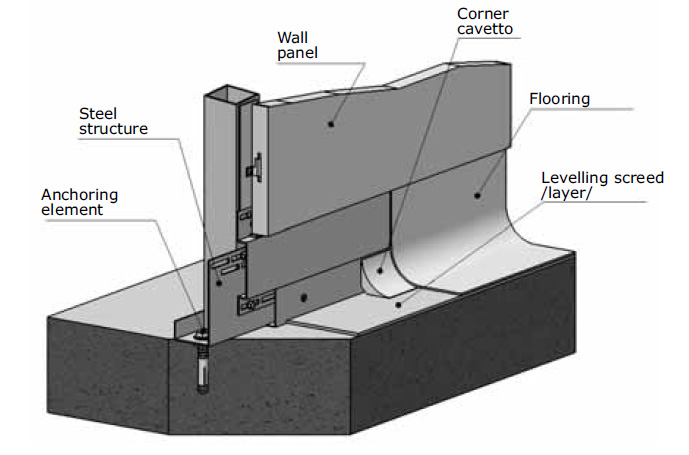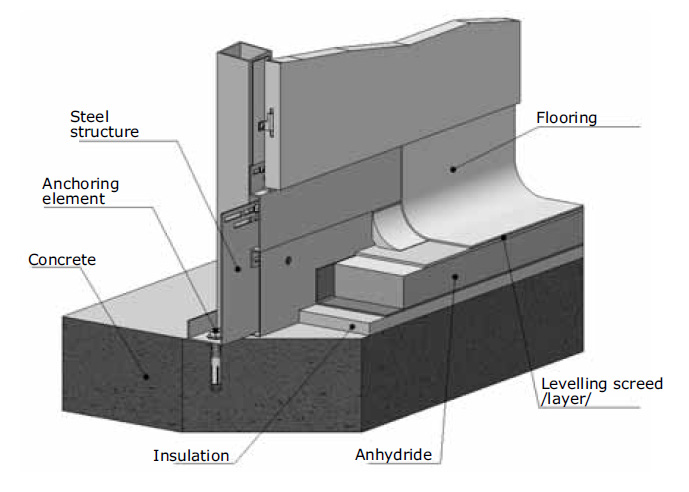 Horizontal Steel Structure
The Horizontal steel structure is made of galvanized steel. The height of the mounting base for wall panels is 100 mm.
In order to ensure spot load on the floor, a J-piece instead of an adjusting screw is used. The J-piece lies with its surface on the floor and it is anchored into it. Both the closed steel profiles of the vertical structure and the "bearing profile" are fixed to this piece. The resultant space between the bearing profile and the concrete floor is closed by a C-piece. This system is even able to manage the possible unevenness of the bearing concrete floor. It is always finally evened with a self-levelling screed /layer/ used for the faultless installation of an antistatic floor.
The system can also be used in connection with an anhydrite poured floor.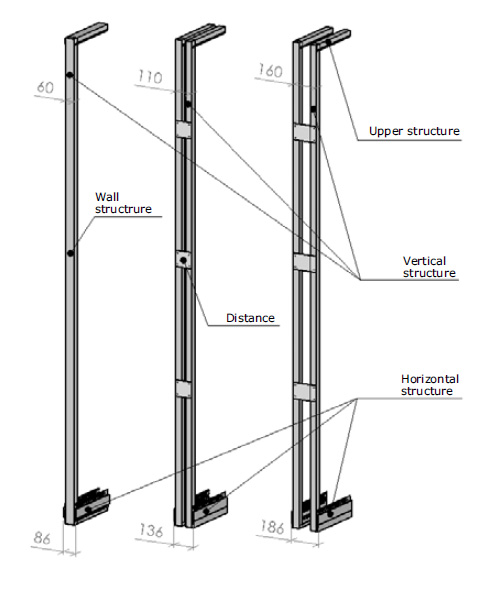 Vertical Steel Structure
The Vertical steel structure is made of galvanized steel closed profiles. These profiles are fixed into the horizontal structure on the bottom, and on the top they are bound by an upper structure. Spacing elements are always installed between the vertical profiles. Their dimensions change on the basis of the necessary distance of the vertical profiles.
The vertical steel structure is 200 mm higher than the clearance height of the room. Moreover, the vertical steel structure is, after precisely specified distances, anchored into the construction ceiling of the room by means of braces. The structure of these braces even allows the necessary dilatation of the steel structure of the operating theatres in the vertical direction.
Supports
The supports in the installation points of most wall elements and door drives are mounted to the vertical steel structure of the galvanized steel transverse stiffener. They decrease wall panel load and they secure the safe anchoring of elements.
The standard thickness of the material is 2 mm and 5 mm for door drives supports.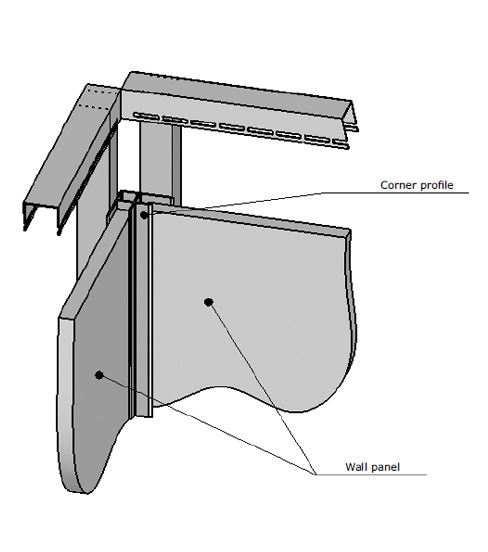 Corner Profile
The Corner profile is made of precision extruded aluminium profile with a colour surface treatment matches the colour shade of the wall panels.
The wall panels are inserted into this profile in the vertical direction and they are sealed with expansion sealing inserted into the corner profile.