Laminarflow unit AKCmed ( laminar flow ceiling )

---
Laminar flow unit AKCmed ( laminar flow ceiling )- innovative product for perfect air flowing in the operating theatre. In the section DOWNLOAD you will find the basic leaflet of such laminar fields.
---
Laminar flow unit AKCmed
There are many suppliers of  laminar fields of different designs. However all these laminar fields have plenty of deficiencies  given by the fact,  that in their layout are engaged  mainly companies supplying the filters.
They meet of course the main requirements for the air filtration and its distribution by means of the laminar flowing at operation theatre.
But they do not take into account other facts, which are important for structural continuity of the ceiling, simple installation and principally for effortless service access by regular replacement of the filters or by the light tubes exchange.
The laminar fied AKCmed fulfils all these problems entirely.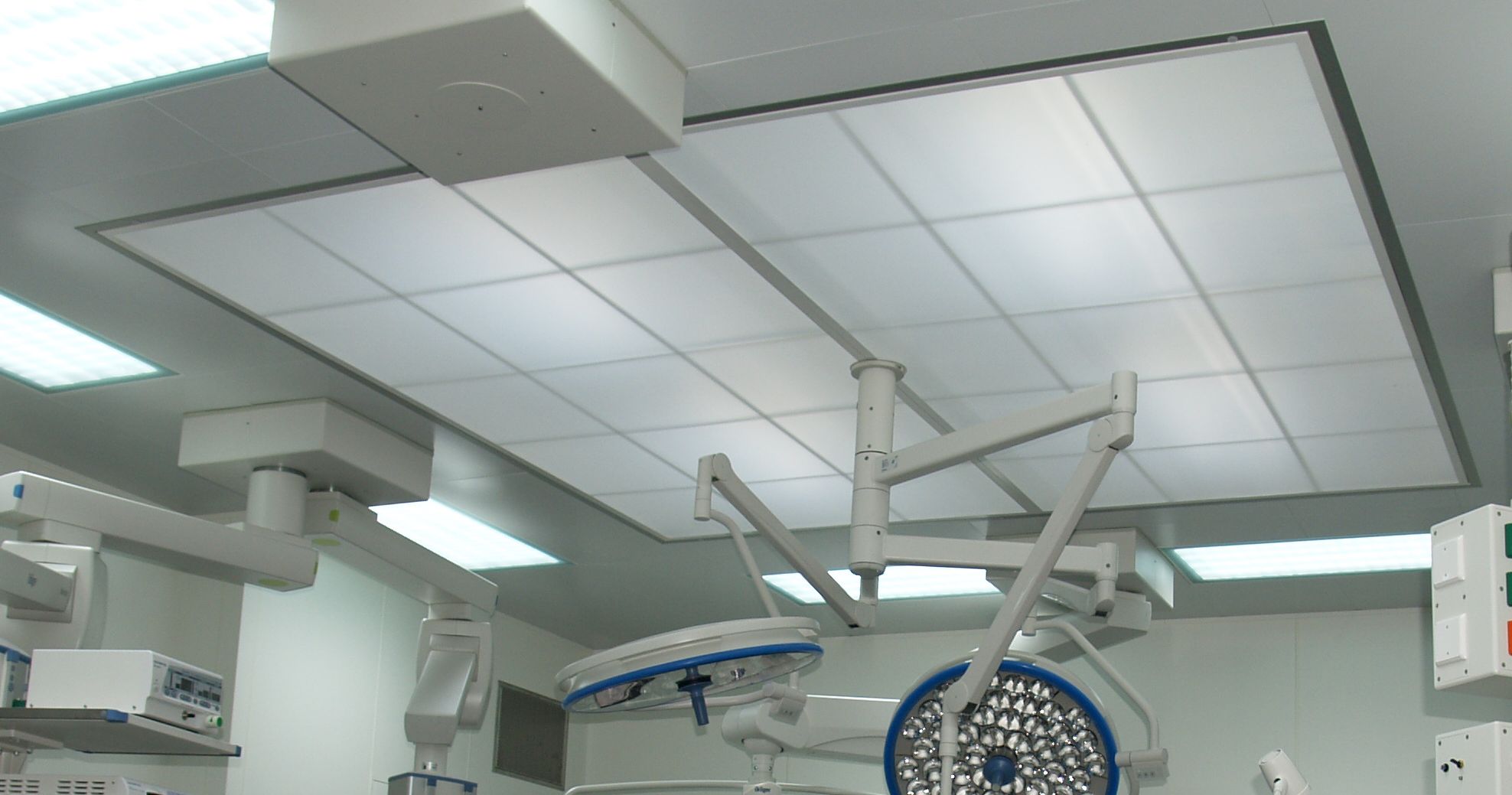 The laminar fields are delivered  in basic product line
type

net dimensions           (mm)

external dimensions         (mm)

flange (4pcs)

air flow at outlet speed 0,23m/s

LF AKCmed 3232
3200

 

x 3200
3390 x 3390- 500
1160 x 180
Q = 8500 m3/hod
LF AKCmed 2424
2400 x 2400
2590 x 2590- 500
850 x 180
Q = 4800 m3/hod
LF AKCmed 1824
1800 x 2400
1990 x 2590- 500
700 x 180
Q = 3600 m3/hod
It is naturally possible to supply whatever dimensions of the laminar field as per the client requirement including an atypical design, such as the segmented laminar field for hybrid theatres, where the angioline is suspended on the load-bearing profiles passing through the laminar field
Illustration from a hybrid operation theatre  -  PHILIPS technology.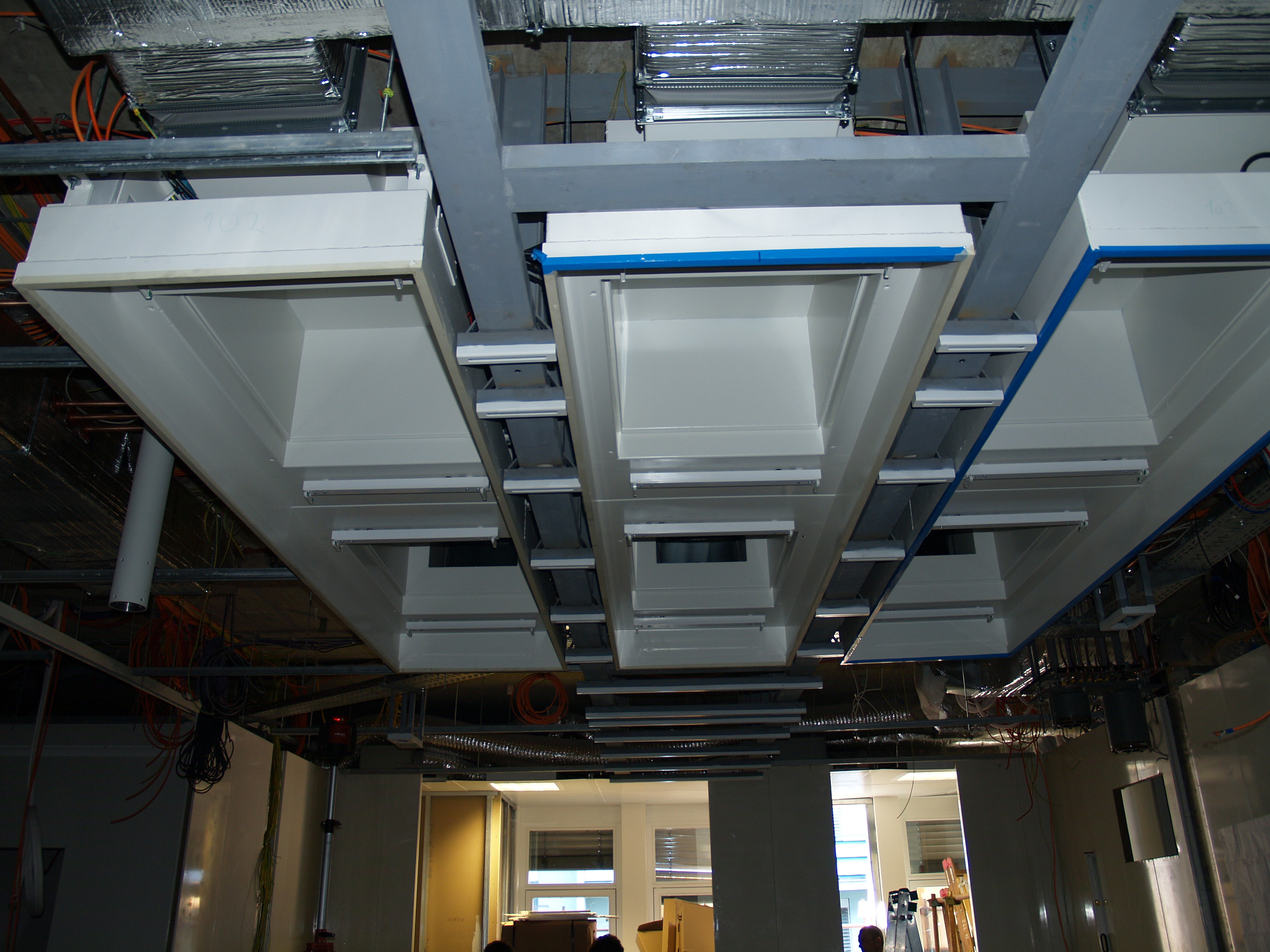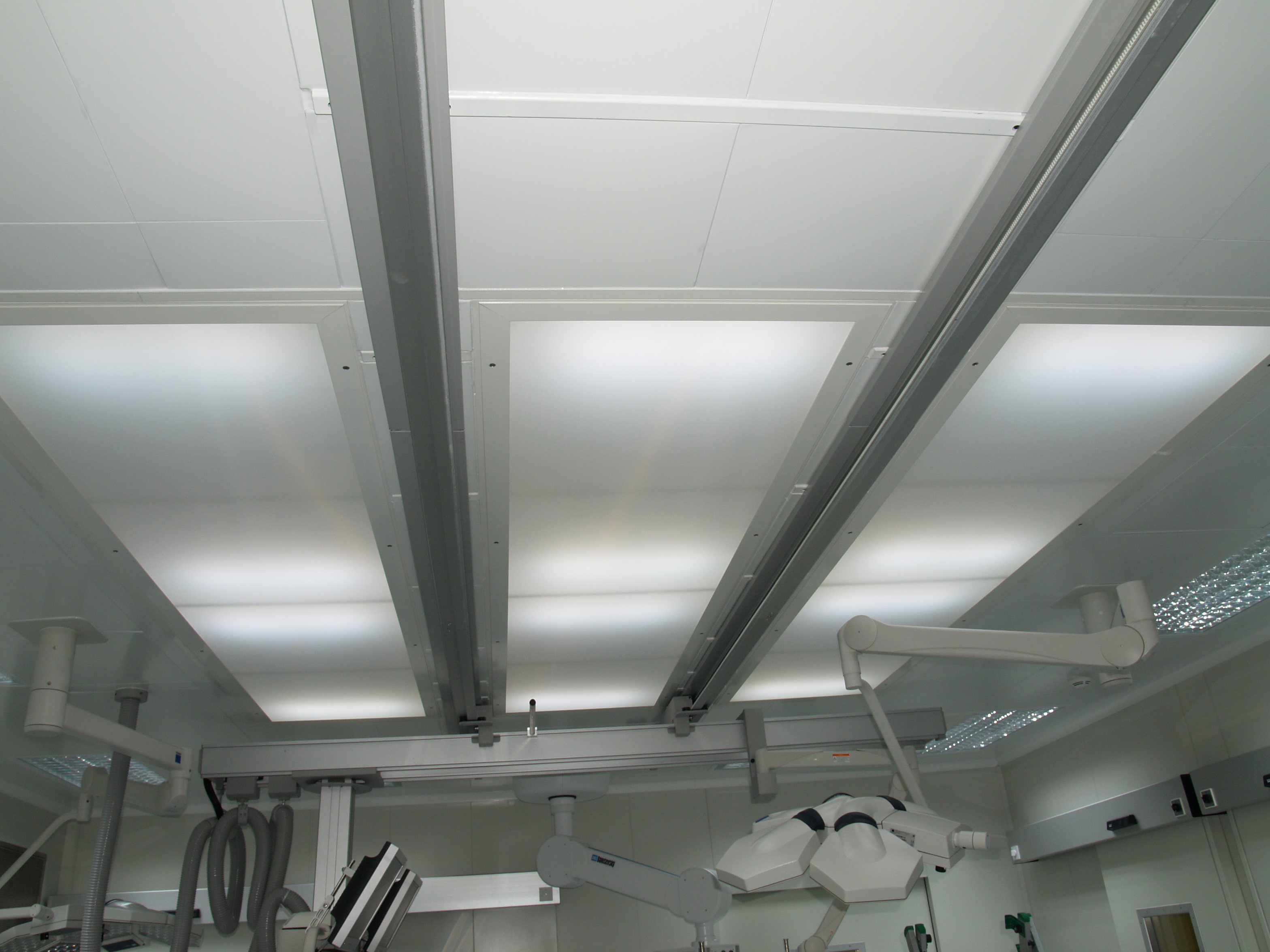 Principal innovative contribution of the AKCmed laminar fields.
1. installation
It is necessary to bear in mind,  that even when the laminar field is tightly welded from the aluminium ( individual quadrants), so by required size 3,2x3,2 m  its total weight can be more than 300 kgs.
That is why its assembly can be carried out in parts in hanging position or if there is possible to take use of two fork-lifts at OT, thre is a chance to set it up on the floor and hang it up at one go.
The whole procedure is described in detal in the installation manual in the section DOWNLOAD - PARTNER SECTION
2. Ceiling connection
In order to connect without any problems a metal ceiling from any supplier is the lower profile of the laminar field made  from a special shaped  aluminium profile. It secures by its solidity that the laminar field is absolutely flat in the point of the ceiling connection  ( in contrast to the common execution i.e laminar field edge bending)  and at the same time in its outer periphery there is created a high groove  enabling to insert the metal ceiling box and to fix it by means of a rubber profile.
3. Integrated lighting
In order to provide for even distribution of the lighting intensity it is always integrated to the laminar field the appropriate lighting by means of fluorescent tubes.
Their light intensity can be controlled  for example from the control MF panel AKCmed or by means of any other driver.
The lighting is already from the production plant  installed into the individual quadrants and it will do to simply insert connectors to the distribution board,  which forms always part of the delivery.  So it is sufficient to get only the external power suipply  and as the case may be also the control signal for the light intensity changes.
4. Innovative design of the laminarizer
The laminarizer is affixed by means of integrated quick-closing mechanism. It gives up a long-time screwing of usually used  small screws and their possible loss in case of a service hit.
In each half of the segmented laminarizer there are installed special inner springsí. Their function is to hold the laminarizer during an assembly or a service hit in the correct position, to avoid its possible fall  due to a lack of concentration  and to enable its turn over to one side durind the service hit  without necessity  to remove it down. This is to minimize the possibility  to damage it.
5. Possibility to install  a glass screen
In case of necessity it is possible to install the glass screen for the air flow regulation. Such a execution is used mainly  by some types of  pendants.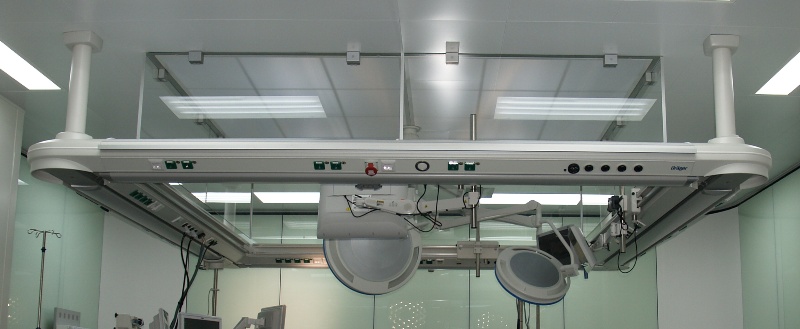 6. HEPA filters with a gel sealing
The laminar field is designed for application of the HEPA filters with a gel sealing.  Their higher priceis are more than compensated to be absolutely sure of  correct placing and of perfect tightly fitting all lifetime long  of  the filter untill its next replacement. The filters are covered by a drawn metal  ( active surface) and this is to minimize a possibility to damage it in case of any service hit.
In case of any questions you are kindly requested to contact us.